Halloween is officially upon us – but more importantly is our FIRST Dine and Donate of the year at the Cricket Cafe and our PTA GENERAL Meeting! We have a Movie Night coming up and lots of opportunities to get involved. Look forward to seeing you at one of these events over the next month or so!!!!
This Week ONLY:
Friday, November 1st: NO SCHOOL!
Tabor Dine and Donate: Cricket Cafe, Friday November 1st 8am – 2pm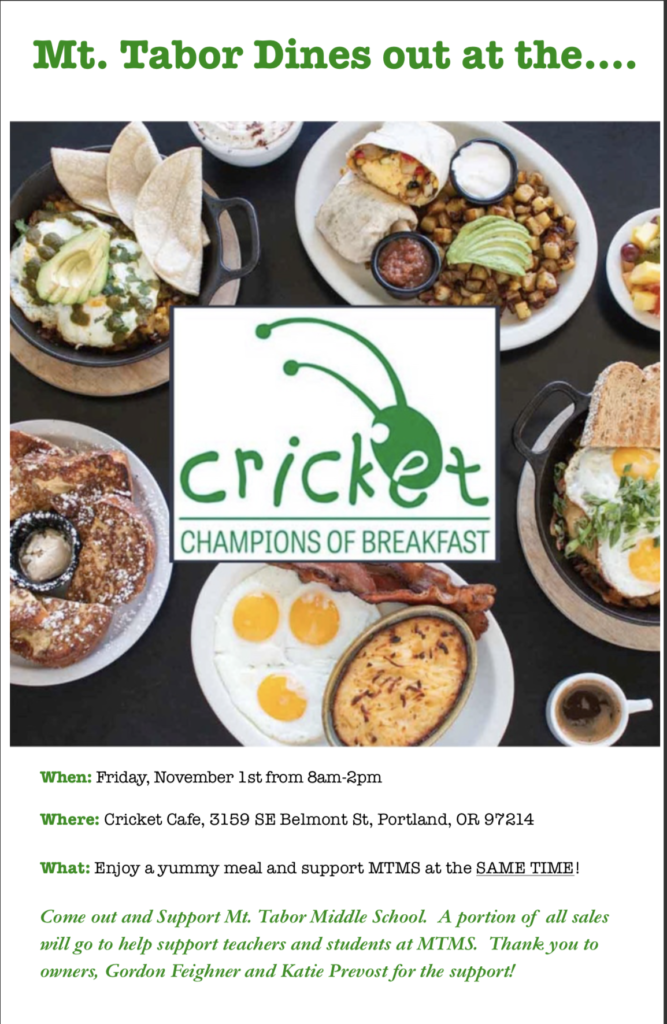 ONGOING / UPCOMING Events:
PTA MEETING on Tuesday, November 5th, 6:30pm
Come see what we have planned for the upcoming year, learn about volunteer opportunities, AND enjoy our guest speaker who will be talking about Gun Safety.
November 8: Mt Tabor MOVIE NIGHT!!!
Coming soon! PTA will be sponsoring Movie Night at the school. Food will be for sale at the event.
Mt. Tabor Middle School Community Night with the Trailblazers…DEADLINE: 11/11/19
Tabor Dine Out: Pizzicato – Tuesday, November 19 ALL DAY LONG!!!