BottleDrop!!! A great way to raise funds for Mt. Tabor Middle School PTA.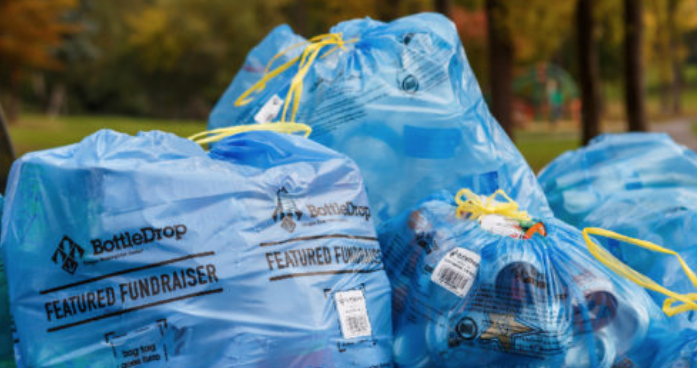 If you are a committed PTA member or follower, you may have noticed the weekly newsletter (this website post) usually goes out on Sunday evening and it was missing this past week. We have decided to change the day we publish the PTA newsletter to Thursday evenings. This way the content is more up-to-date when the PTA website link goes out in the principal's weekly newsletter on Friday. As the school year moves forward, you can check the PTA website Thursday night for new content. Or, wait until the principal's Friday newsletter comes out and find the PTA website link toward the bottom of The Mt. Tabor Tribune newsletter.
The PTA has been working on ways to get blue bags distributed to those families that participate in the BottleDrop program. If you have a student in band, you may have seen us last week and this week at the instrument pick up. We have been there working to raise awareness about the PTA, handout paper PTA membership forms, share links with instant access to sign up and pay dues for PTA membership, and pass out blue bags for the BottleDrop program. We will again be at the band instrument pick-up next week on Thursday, October 22nd from 5:00pm – 7:00pm. If you would like blue bags for recycling or a paper membership form, please stop by (we wear masks and social distance). It was fun to see eager students picking up drum kits and trumpets! Many parents were also excited to support the PTA by becoming a member or learning more about ways to raise money for the PTA (BottleDrop, AmazonSmile, and Fred Meyer Community Rewards).
If you are not familiar with the BottleDrop program, you can learn more at the website https://www.bottledropcenters.com/raise-money/#howtoraisefunds. You do not have to set up an account ahead of time. You do not have to count bottles. You do not have to sort recyclables.
BottleDrop Instructions:
You simply pick-up blue bags that are pre-labeled with the MTMS PTA information and fill bags with plastic, aluminum, and glass for recycling. Drop full bags at a BottleDrop or one of their partner retailer locations. Scan the bag tag to open the secure Drop Door. Up to 10 blue bags can be dropped each day without an appointment. You can search for BottleDrop or partner locations by zip code on the website.
Two ways to pick-up blue bags:
Please look for us at MTMS supply or book pick ups and drop offs. We will have blue bags available at any of these events.
Email the MTMS PTA at mtmspta@gmail.com and put BottleDrop bags in the subject line. We will work out a way to get some bags to you.
We hope the school week wraps up well for everyone. Have a great weekend!